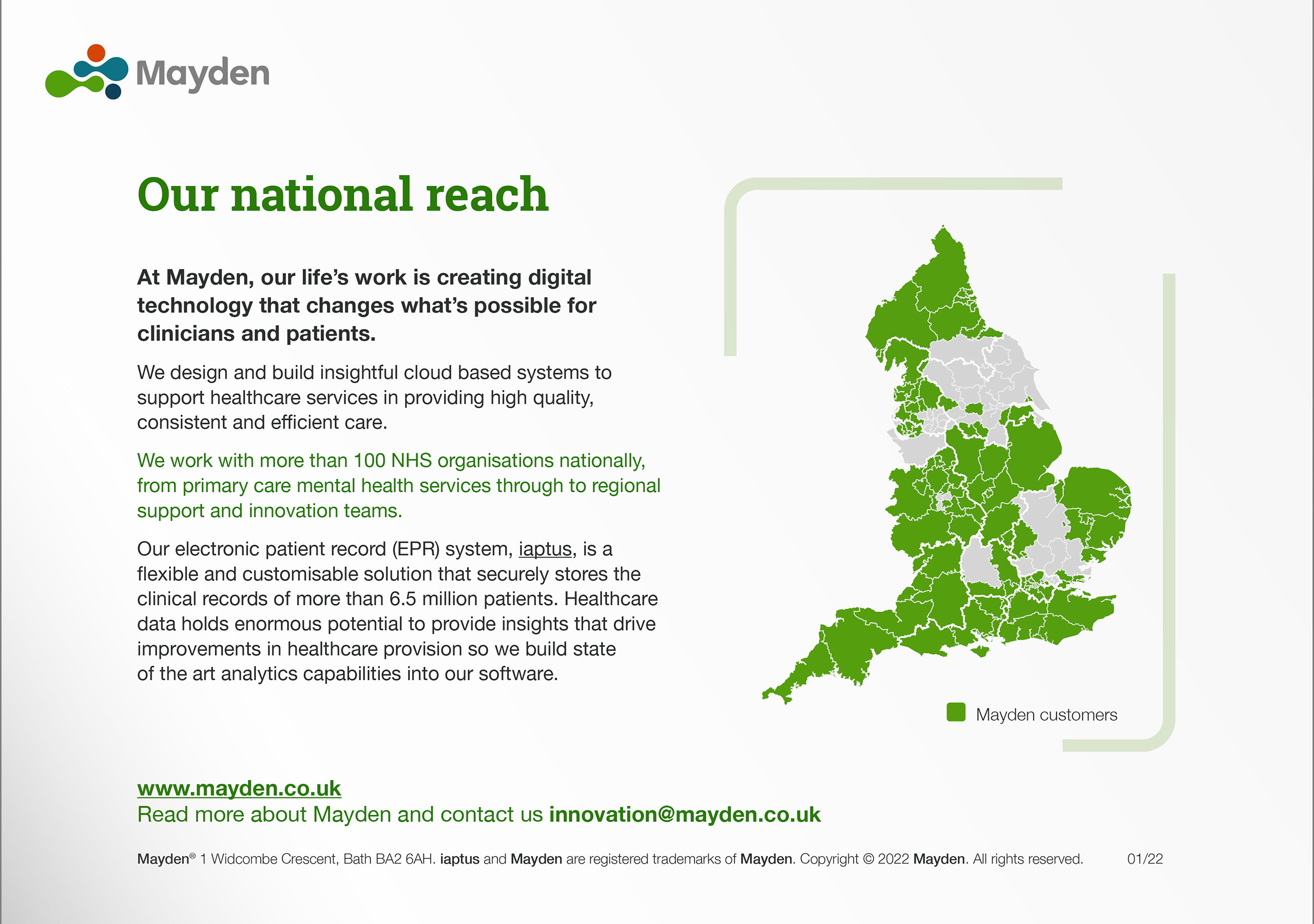 For over 20 years, Mayden has specialised in technology that supports healthcare services deliver data driven, outcome focussed and patient centred care. We design and build insightful systems for healthcare services in the UK and internationally.
Our electronic patient record (EPR) system – iaptus – is a flexible, customisable solution that supports both physical and mental health services, and securely holds the records of over 6.5 million patients.
We work with over 100 NHS organisations nationally. Is your Trust one of them?
Dr Ruth Dennis:
"It's been an absolute pleasure to work with Mayden as they've developed and implemented iaptus for our service. They demonstrate great flexibility and have been willing to constantly adapt in order to meet the ever-changing demands of clinical work in our service. Staff at Mayden are approachable, friendly and always willing to work with us to resolve any queries or problems. I have no hesitation in recommending them very highly to other organisations."
NHS Hammersmith & Fulham.
Lisa Edwards, IAPT Data Quality and Office Manager:
"I still think it's the best system I have ever used."
Midlands Partnership NHS Foundation Trust.
Sara Pickford, Head of Service Development and Performance:
"With iaptus, Mayden has supported our development as an IAPT wave 2 service. The program matches our care pathway and is clinician friendly, resulting in high quality data. For data to be meaningful, it has to be valid, accessible and useful. iaptus has made that happen."
Sussex Community NHS Trust.
Judith Chapman, Clinical Service Manager:
"Mayden is a professional but friendly company that responds in a 'We can do it, or we will work on it and get back to you' way and they DO. Staff are always helpful, knowledgeable and responsive to issues and questions raised – and give an individualised service to support our IAPT delivery."
Berkshire Healthcare NHS Trust.
Gavin Slater:
"The experience of working with Mayden has been extremely positive. They provide excellent support and have always been very happy to work alongside us to ensure that iaptus develops in a way that meets the needs of our service."
Cumbria, Northumberland, Tyne and Wear Foundation Trust
CASE STUDY: Mayden supports NHS Talking Therapies (IAPT) programme
"The Improving Access to Psychological Therapies (IAPT) programme began in 2008 and has transformed the treatment of adult anxiety disorders and depression in England. IAPT is widely-recognised as the most ambitious programme of talking therapies in the world. In the past year alone more than one million people accessed IAPT services for help to overcome their depression and anxiety, and better manage their mental health." NHS England
NHS IAPT services provide psychological therapy support for people with mild to moderate symptoms of anxiety and depression. These services have been under increasing pressure, supporting an enormous volume of patients every year, and demand for these services is increasing.
Services provided as part of the NHS IAPT programme are characterised by three key attributes:
Evidence-based psychological therapies: with therapy delivered by fully trained and accredited practitioners, matched to the mental health problem and its intensity and duration designed to optimise outcomes.
Routine outcome monitoring: so that the person having therapy and the clinician offering it have up-to-date information on an individual's progress. This supports the development of a positive and shared approach to the goals of therapy. As this data is anonymised and published, this promotes transparency in service performance and encourages improvement.
Regular and outcomes focused supervision: so practitioners are supported to continuously improve and deliver high quality care. NHS England.
Our iaptus electronic patient record (EPR) has been chosen by over 60% of services nationally providing mental health support as part of the NHS IAPT programme. Our system now coordinates the care of over 65% of all patients being referred to NHS talking therapy services.
As iaptus is a flexible solution, we are able to customise our product to meet the specific needs of each service that we support.
For IAPT, given the increasing patient demand, we prioritise developments that will help to increase productivity and free up clinical time to see more patients. For example, we recently introduced online appointment booking and secure video consultations. We now integrate with over 30 digital health platforms so that NHS IAPT services can safely and securely offer online treatment.
To support the IAPT model of care – evidence based therapies, routine outcomes measurement, and supervision – we have developed the following features into our iaptus EPR.
A customisable care pathway giving clinicians and managers a clear view of a patient's treatment stage, guiding staff to take patients through a clear care process, and ensuring that treatment remains consistent.

A full suite of outcome questionnaires that can be completed either in session, or by the patient in their own home in the days prior to their appointment via secure link.

Supervision is easily managed in iaptus with clinicians' case loads visible from one screen, including viewing the risk rating for each patient, the reason for referral and graphics showing progress across attended sessions.
These are just a few of the ways that we have been developing iaptus to support NHS IAPT services based on their specific needs. We recognise that every clinical area has its own unique challenges and workflows, and that software should reflect the way a service works in order to bring the most benefits. That is why we have designed iaptus to be a flexible and customisable EPR – so that we can focus on building the features that can truly support services and their patients.
If you'd like to know more or find out if iaptus could support your service, please get in touch. We will also be exhibiting at Digital Health Rewired this year, so please drop by stand B20 to pick up your own copy of our product brochure.