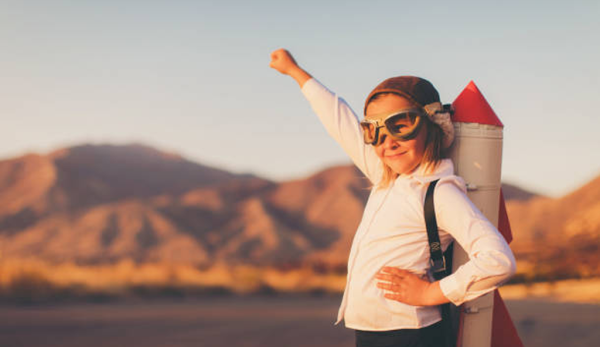 Since writing 'Made without Managers' we have experienced mixed emotions. We've felt the organisational version of 'imposter syndrome' (who are we to talk about self managing, when we still have so much to figure out for ourselves?), as well as great excitement that people are interested in new ways of working, Mayden's flat organisational structure, and who want to hear our stories.
Recently, we've had the honour of sharing what we have learnt with other businesses, students, space scientists, solicitors, and the Good Employment Charter.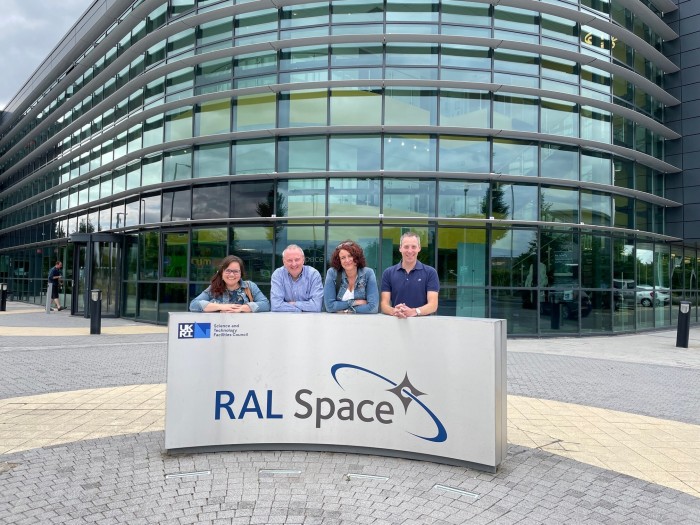 They have all wanted to know what it's really like to work in a self managing organisation… each with a different focus. From wanting to learn about effective team working, to continuous improvement, to organisational culture and creating great places to work.
Reflecting on the conversations with fellow 'organisational explorers' has highlighted three things we think are worth sharing:
1. Self managing teams, and a flat organisational structure are not for everyone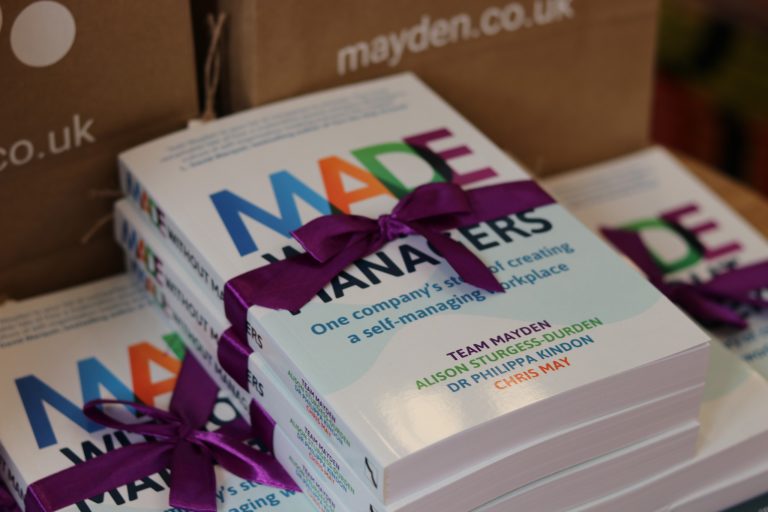 Reactions to our way of working range from incredulous (that can't possibly work), to reassured (we've just stripped out our middle managers and would love to hear more about what comes next). From cautious (we can see potential benefits, but we're not sure it would work for us), to curious (what difference does coaching make? How do decisions get made?).
Regardless of the individual reactions, the collective response is one of an unlocked latent belief that the way workplaces are managed and organised can be better, and needs to change in order to rise to the challenges of a digital era.
2. Mindset and mental models matter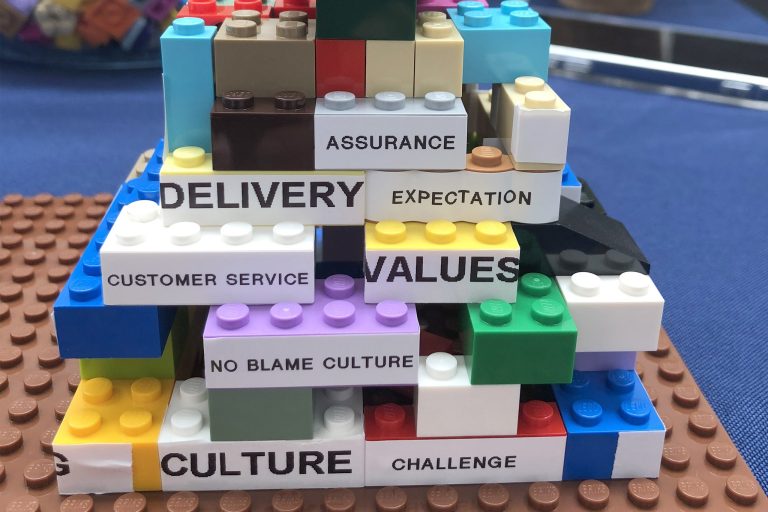 At Mayden, we encourage a mindset of 'if you see a problem, don't think 'who can I moan to', but instead 'what can I do about it?'. We also foster a 'no blame culture' where employees feel safe to speak up when they make a mistake, knowing they will be supported to fix any problems arising and that we will all learn lessons and avoid making the same mistake again.
These mindsets bring about different mental models about the way companies can organise and structure themselves. Overlaying, or transposing a hierarchical mindset (i.e people need to be managed and told what to do, with certain people hiding their mistakes) onto a flat / self managing organisation ethos will naturally lead to the conclusion that it can't possibly work. But like the digital era not just meaning 'the industrial era online', working in new ways doesn't just mean changing current operational processes without shifting the underlying culture, ethos, beliefs and values.
You have to be prepared to uncover hidden assumptions, and work on raising awareness of your unconscious bias. The keen-eyed coaches among you will probably see why coaching is such a fundamental pillar of working in the way we do, as these tend to be important parts of the coaching process too.
3. Some principles seem to matter regardless of your organisational structure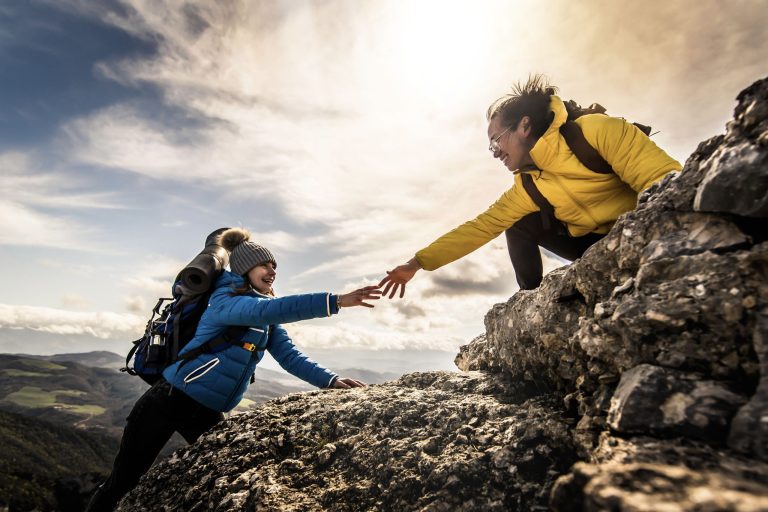 We would point to these being flexibility and reciprocity between employee and employer. No company can ignore the impact of lockdown, and the emergence of hybrid working that has followed. As both employers and employees grapple with how to navigate who works from where and what kind of work, both need to remember that the individual doesn't succeed if the organisation doesn't succeed. And the company doesn't thrive unless the individuals within are also thriving.
Other factors include developing high trust relationships and, wherever possible, adopting coaching and mentoring over command and control approaches. In environments where collaboration and creativity are often what's needed to overcome the challenges, having work environments where people are encouraged and enabled to speak up with innovative solutions and diverse ideas means a greater chance of being prepared for the unexpected.
Finally, an intentional effort to implement continuous learning and improvement came up time and again. As we face increasing complexity in our work, organisations, and society as a whole, being able to reflect on what's come before, and adapt accordingly is key.
Let's keeping talking and inspiring each other to make work better.
Built from the principle that people are generally capable of managing themselves, provided they have clarity and competence (L. David Marquet), we've come to describe Mayden's approach as 'managing work rather than managing people'. We believe in creating workplaces where everyone can thrive, and continue to challenge ourselves to organise and work well in times of great uncertainty (Margaret Heffernan). We welcome conversations with anyone who has the same aspiration and is looking for ways to create the kind of organisation that people want to work for.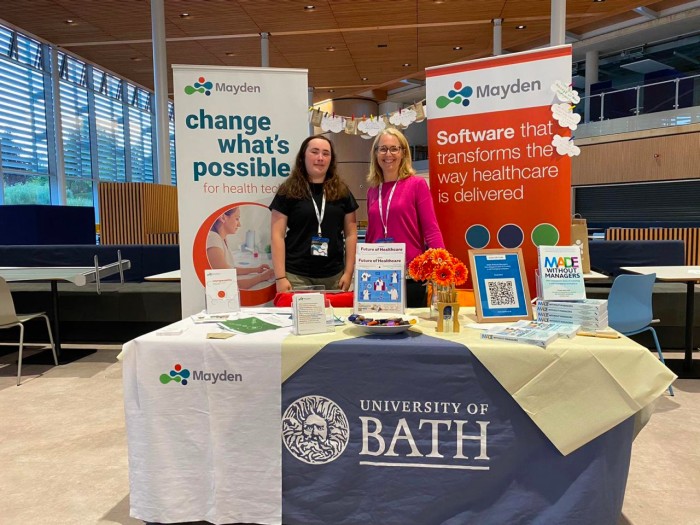 It is our great privilege to be attending 'Inspiring business' at the University of Bath on 9th November – we hope to see you there.
We are also very excited to be speaking with one of our key inspirations – Corporate Rebels – on a live webinar on 21st November as part of their 'bucket list' interview series – although we're not really sure who's on whose bucket list to be honest.
If you want to know more about our way of working and flat organisational structure: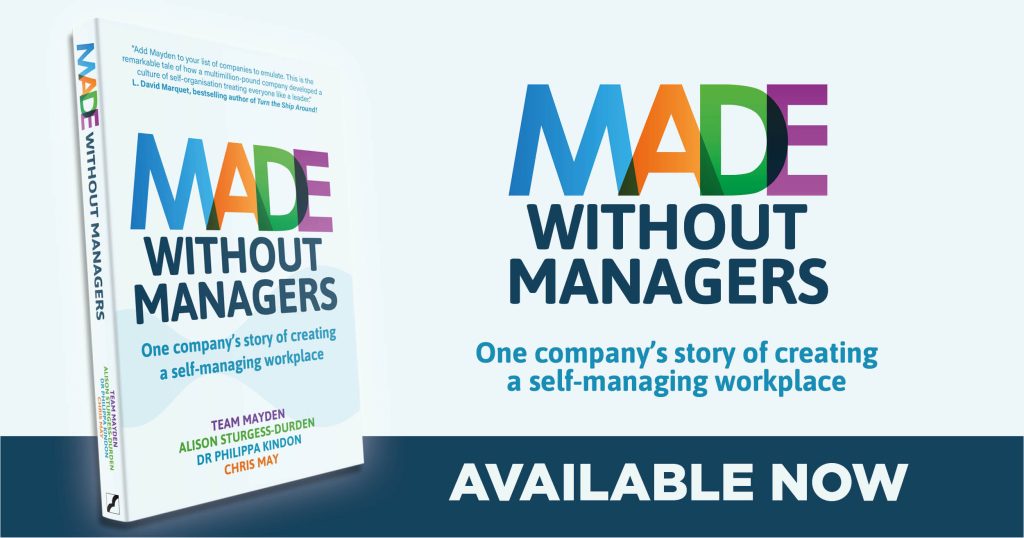 Mayden's way of working has evolved over the years. Find out what career progression looks like, the role of directors in a flat organisational structure, and our biggest challenges so far.
How was Mayden able to take Agile principles and ways of working from software development and apply them to the entire organisation? 
Philippa and Ruth share the highs and lows of what it's like to work at Mayden, and how self-management comes to life in our organisation.
Our guiding principle at Mayden is to manage the work, not the people. We've put in place a clear decision-making process and a scaffolding structure that replaces most line management positions.