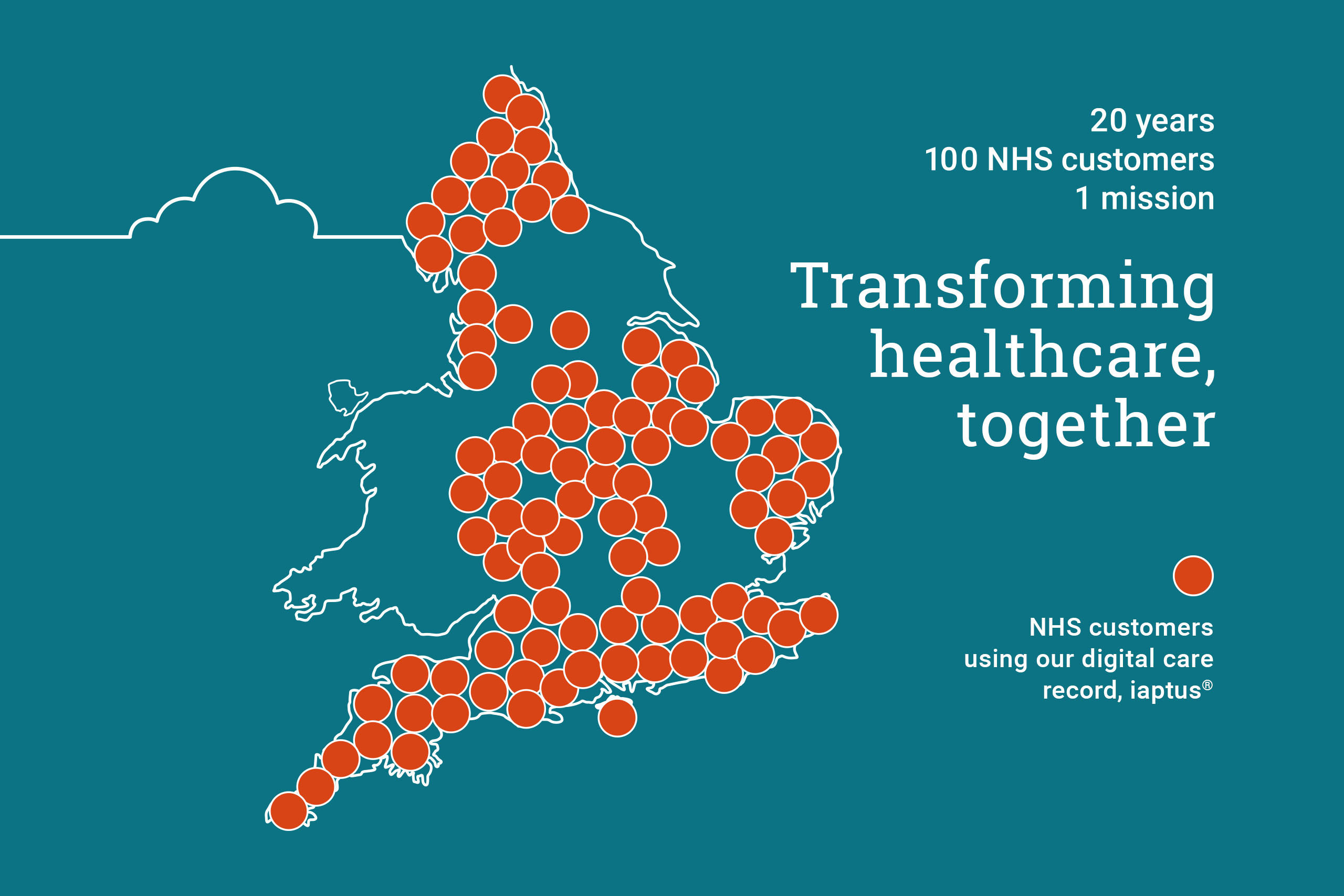 For the past 20 years, Mayden has been creating insightful and interoperable software to provide the NHS with digital healthcare solutions that change what's possible for clinicians and patients.
iaptus is our digital care record (DCR) for outcome focussed, data driven and patient centred care. We work closely with our customers to ensure that iaptus is customised to meet the clinical demands of their service, by focusing on developments that bring the most benefits to services, clinicians and patients. These developments include optimising operational processes and improving clinical outcomes, all backed up with award winning customer service and internationally recognised levels of information governance.
"Mayden staff are considerate and responsive. They have demonstrated flexibility and efficiency in meeting our precise requirements – a truly professional organisation." – Darren Fernandes, SW London and St Georges NHS Trust
The digital care record system that Mayden provides is about more than just features and functionality. We pride ourselves on great customer service, training and support. Dedicated account managers are on-hand to answer any questions, and work with customers to make sure that our iaptus software is being used in a way that will deliver the most benefits.
"The experience of working with Mayden has been extremely positive. They provide excellent support and have always been very happy to work alongside us to ensure that iaptus develops in a way that meets the needs of our service". – Gavin Slater, Cumbria, Northumberland, Tyne and Wear Foundation Trust
We believe that digital is an essential component in delivering high quality, sustainable, cost effective and efficient models of healthcare – and that is what we are here to provide.
20 years, 100 NHS Customers, 1 mission: Transforming healthcare, together
Our focus has been to develop online tools that help digitise parts of a clinical service that can be handled online, allowing clinicians to prioritise the things that can only be done face to face.
We continue to strive towards providing our customers with a system that has the patient at its heart. A digital healthcare solution that is continually learning and improving, and that supports those we love with the care and compassion they deserve when they are at their most vulnerable.
"I've worked with Mayden since commissioning the development of iaptus in 2006 and have found they share our passion to give our patients outstanding care through their digital healthcare solutions. Their willingness to innovate to give patients and staff a great digital experience gives me reason to strongly recommend them as a strategic technical partner." – Dr Ben Wright, Chief Clinical Digital Officer, ELFT
iaptus now supports the care of 65% of patients referred to the NHS Improving Access to Psychological Therapies (IAPT) programme. As a comprehensive and flexible digital care record, clinicians work with us to develop customisable care pathways to support each service's individual workflow. More than 15% of our work is focused on innovation, research and development, helping us solve the biggest challenges health services are facing both now and for the future.
If you would like to talk to us about how iaptus can support your Trust to deliver effective digital healthcare solutions then please get in touch with our exceptional support team today.
Alternatively, If you are attending Digital Health Rewired this year, please come visit us at stand B20, where our team will be more than happy to discuss our digital care record system in full and answer any questions you may have.