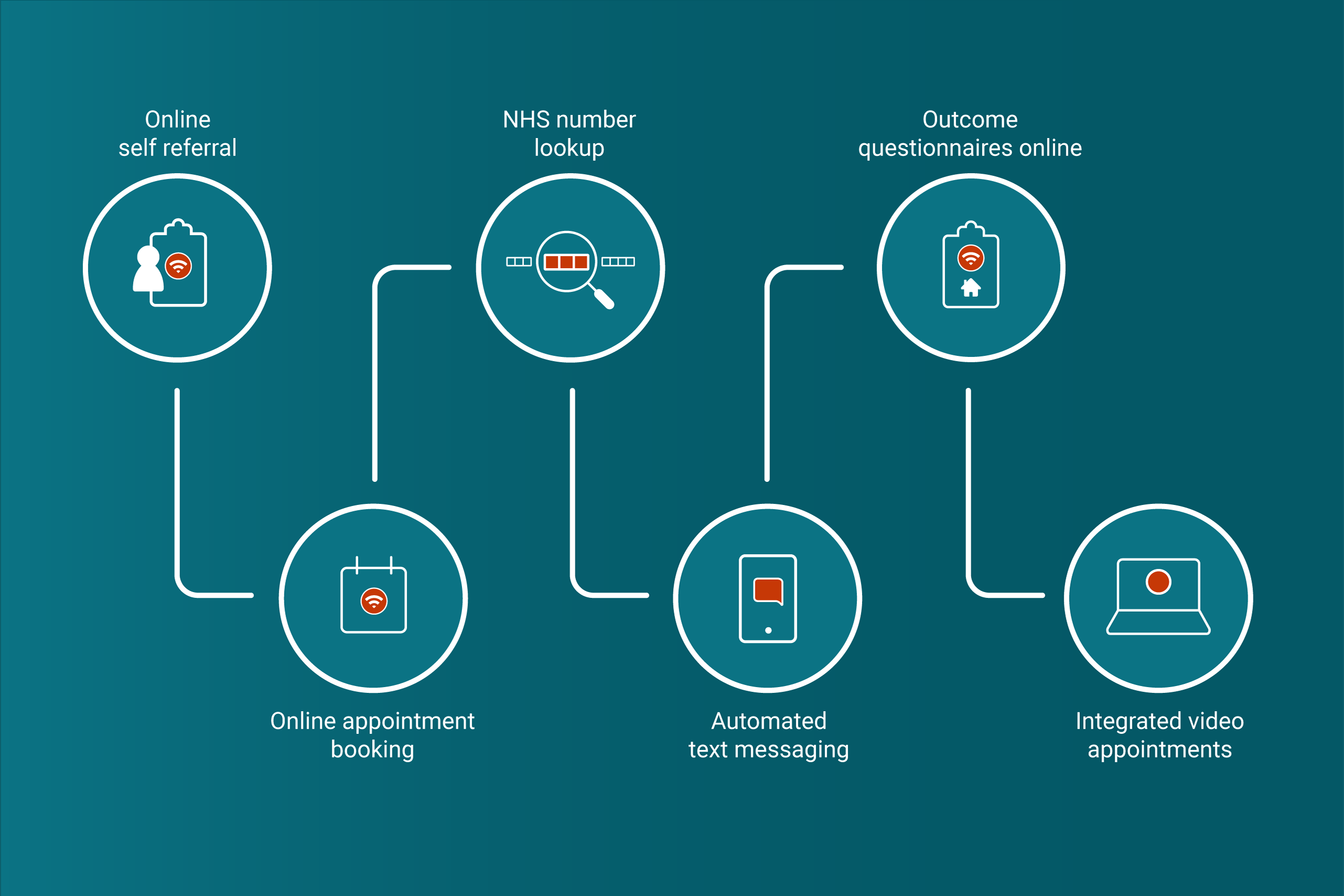 The way that patients are interacting with healthcare services is changing. Online options for managing appointments, communicating with services and even receiving treatment, are now becoming the preferred choice for some patient groups.
An end-to-end digital healthcare experience for patients:
As a health tech company, our ambition is to collaborate with customers to find ways we can help streamline their services, and improve the outcomes and experience of care for their patients. Over the last ten years, we've been developing online tools to help digitise parts of a clinical service that can be handled online, to free up time for clinicians to prioritise the things that can only be done face to face.
These digital features combine within our iaptus software to form a digital care pathway. The digital care pathway gives patients the option of an end-to-end digital healthcare experience. From online self referral, video consultations, use of digital apps, communication tools and completing outcomes questionnaires from home.
The Digital Care Pathway
You can view our digital care pathway here.
It is important to recognise that this digital care pathway will not be appropriate for some patients. But for those that choose this approach, it gives convenience and control around how their care is coordinated and delivered. It also offers an alternative approach to care that can increase access for different, often under represented groups.
Although, the complete end-to-end digital care pathway may not be for everyone. Most services using iaptus are already benefiting from many of these digital tools independently, to support traditional care models, providing services with data-driven insights to improve the patient experience, increase engagement and inform clinical treatment. But now there is the opportunity to combine these tools for a complete end-to-end digital care pathway.
Two of the latest additions to our digital care pathway are online appointment booking and our work with SilverCloud Health on the Direct to Digital project.
Our online appointment booking system was launched in April 2021 and since then, 41 services have implemented the feature – giving patients control of their own availability and reducing administration for services.
"Online appointment booking is quickly becoming an essential part of the way our service is run. Those patients that are happy to refer digitally can now complete the whole process without even speaking to an administrator. We have noticed a marked reduction in admin time spent per patient. That frees our staff up to spend time on other things, resulting in better, more efficient care for our patients." – Joel Hooper, Operational IAPT Business Manager, Dorset Healthcare NHS Foundation Trust
The Direct to Digital project with SilverCloud Health has been a fantastic project to speed up access to support for patients. The project has already been adopted by four NHS Trusts.
Get in touch today to discuss the Direct to Digital project and how it might benefit your service.
If you are a current user of iaptus and want to hear more about any of the features in our digital care pathway then please raise a support log with your Account Manager.