The Open Forum "Right care: Right time" conference has come to a close and we couldn't have been more pleased with the turn out.
We heard from a lineup of fantastic speakers across a jam-packed day, discovering innovation, learning about inspiring projects and discussing best practices for improving mental health services for children and young people. It was wonderful to meet the people and teams working across so many CAMHS and CYPMH services and we would also like to extend a special thanks to our customers and all those who stopped by to say hello at our stand. Read on to uncover best practices discussed by a range of CYP services below.
Discovering digital innovations for CYPMH services:
We were proud to be delivering a case study alongside Nik Kavanagh, data lead and therapist at the Young Person's Advisory Service (YPAS). Nik spoke of the mental health support they provide on Merseyside and the role of YPAS as a member of the Liverpool CAMHS partnership. First, Helen gave a brief overview about Mayden and how our iaptus patient management system is well placed to provide clinical data management and digital tools for CYPMH services.
The demand for mental health services has increased, especially since the pandemic, with services working really hard to adapt their service models and embrace digital innovations to continue to provide high levels of support for the children and young people in their care.
Our mission is to create software that changes what's possible for clinicians and patients. We provide cloud based software that's outcome focused, patient centred and data driven:
We've been working with adult Improving Access to Psychological Therapy (IAPT) and community mental health services for children and young people for more than 10 years
iaptus is used by around two thirds of adult IAPT services
iaptus CYP is used by more than 60 CYP mental health providers, including NHS Trusts, local authorities and charities
We're really fortunate to count amongst our customers many of the voluntary sector providers in the Liverpool CAMHS partnership, including YPAS, Merseyside Youth Association and the ADHD Foundation. iaptus CYP is also used by CAMHS teams and trusts such as East Lancashire Hospitals NHS Trust, who were also speaking on the day.
If you're interested in hearing more about how iaptus CYP can support your service and the young people in your care, please join us at one of our next webinars on the 30th June or 19th July 2022.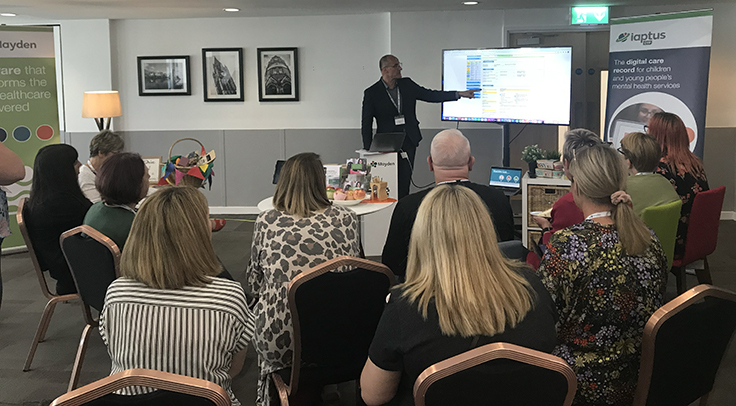 Best Practise: improving mental health services for children and young people
Mersey Care NHS Foundation Trust: Trish Bennett, Deputy Chief Executive shared data from the trust on the rising levels of demand for mental health services in their area and how this has been exacerbated by the pandemic. There was interesting learning on the implications for CAMHS services and Trish made reference to the Health and Social Care Committee report on Children and Young People's Mental Health published December 2021.
Reprezent presented on the 'On The Level' peer-led mental health show, an interactive show that has engaged 40,000 young people via live broadcasts to secondary schools and colleges. Each event is presented by young people who have trained with Reprezent and two of them, Jordan and Bisola joined the team presenting on stage.
East Lancashire Hospitals NHS Trust (ELHT): Georgina and Bryan, who work in the Mental Health Support Team (MHST) across Blackburn with Darwen, outlined their transition projects designed to help young people tolerate uncertainty, normalise worry and develop skills to navigate their transitions between schools. One of the MHST key functions is supporting the whole school approach and the transition package is helping to ensure schools have the resources to support transitions for their pupils.
Manchester University NHS Trust: Dr David Ochando shared learning from the Community Eating Disorders Service and practice guidance on the management of emergencies in eating disorders from the Royal College of Psychiatrists. The trust is developing new care models, including an enhanced community treatment offer to include home and school based intensive treatment.
The Kids Network: Amy Campo McEvoy, Programme Director, described the early intervention support they offer to children in London during the transition from primary to secondary school. The charity provides mentoring support to help children identify their own goals and develop tools to tackle the challenges they face and prepare them for the future.
We look forward to seeing you at the next Open Forum CYP Conference in November! Register for the Children and Young People's Mental Health: Getting it Right First-Time conference today.