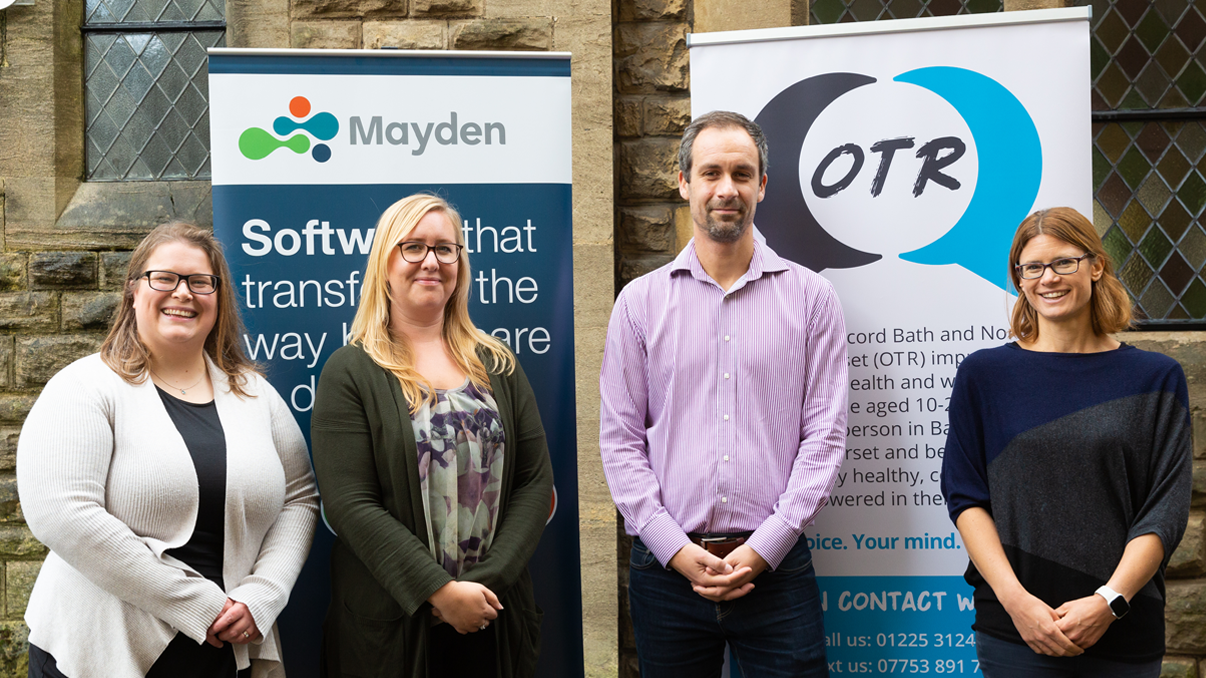 Members of local charity Off the Record Bath and North East Somerset and software company Mayden met at Off the Record's centre on Manvers Street in Bath for the unveiling of a plaque for one of the charity's counselling rooms on Friday 1st October.
For Off the Record and the young people they serve, this room is much more than a therapy room. Every year, 'The Mayden Room' will welcome hundreds of young people going through a variety of struggles, from bullying and exam stress, to suicidal thoughts and bereavement. It will be a safe, confidential space for young people to reach out and get unconditional support, no matter the severity of the issues they face. In short, the walls of the room will see countless young lives changed for the better.
Off the Record has been providing mental health care to local young people for over 25 years and supported over 2,000 young people in 2020. Their free counselling and listening support services have become a vital resource in our community and thanks to the support of local businesses like Mayden, Off the Record is reaching more young people every year. Off the Record chose to give 'The Mayden Room' its name in recognition of Mayden's outstanding support of the charity, particularly during the introduction of the iaptus CYP software earlier this year across their therapy and counselling services. 
Alice Payne, Trustee of Off the Record, said:
Fiona Dawson, Director of Mayden said:
iaptus CYP is designed to support children and young people's mental health services in the NHS and third sector. It enables practitioners to efficiently record and retrieve data, freeing up their time for contact with the children and young people in their care. If you would like to learn more about how iaptus CYP or our other products could support your service, please click here.
Photo 1: Off the Record and Mayden team members meet at Off the Record's centre on Manvers Street in Bath. From left to right; Fiona Dawson – Director of Mayden, Lindsey Baker – Account Manager at Mayden, Phil Walters – Director of OTR, Alice Payne – Trustee of OTR
Photo 2: 'The Mayden Room' which will be used for counselling sessions with young people