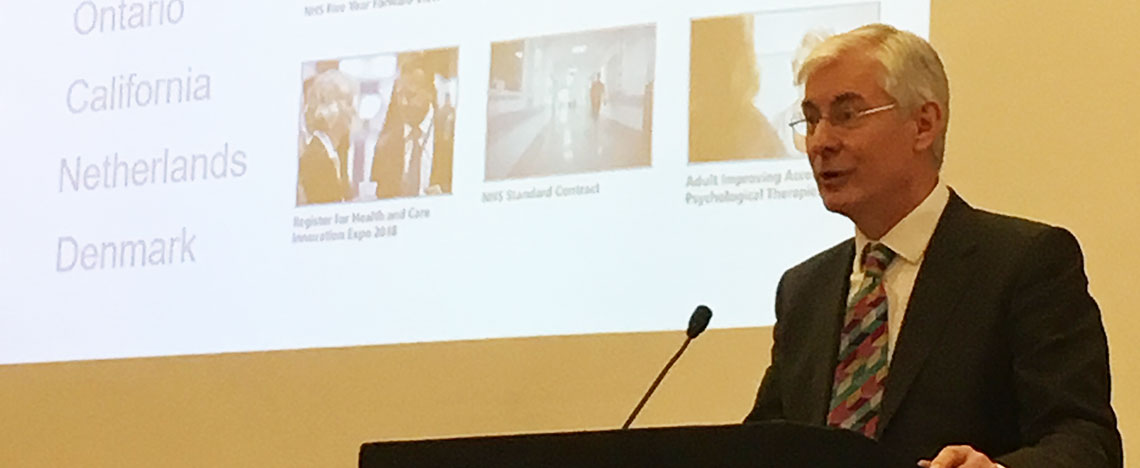 Improving Access to Psychological Therapies (IAPT) is a landmark public health programme in England's National Health Services (NHS) that is inspiring similar low intensity mental health models around the world.
Started in 2008, IAPT has grown to provide psychological therapies to more than 1 million people with common mental health disorders, such as anxiety and depression, each year. NHS England recently celebrated the achievements of the programme over its first ten years at the IAPT at 10 event in London, attended by key figures behind the programme and the teams that deliver this groundbreaking psychological therapy service.
The event highlighted the international interest that IAPT has attracted in the media, from health policy-makers and providers. IAPT has distinctive features, which an editorial in the journal Nature in 2012 described as setting 'a world-beating standard'.
The programme is built around an innovative session-by-session clinical outcome monitoring system in which almost everyone who has a course of treatment has their anxiety and depression measured at the start and end of treatment. IAPT has achieved patient recovery rates of 50% since 2017. National reporting of outcomes ensures a unique level of public transparency.
"When the rest of the world looks at some of the big changes that have taken place in the NHS, it's in IAPT and talking therapies that they pay attention." Simon Stevens, Chief Executive, NHS England
We were delighted to join IAPT services at the IAPT at 10 conference and to hear an update on the countries looking at the IAPT model and evidence base in order to apply the learning in their own mental health services. In his presentation, Professor David Clark highlighted that the IAPT model is being adapted in Australia, Norway, Sweden.
"Building on the UK model, Norway now has 40 IAPT services. Australia's New Access for depression and anxiety programme is strongly influenced by IAPT, Stockholm has a very successful IAPT service, and several other countries are developing plans for IAPT-like services." Professor David M Clark, National Clinical and Informatics Advisor for IAPT.
Here at Mayden, we're following the development of IAPT models in other countries with great interest. We've worked with IAPT services in England since the early days of the programme and our iaptus software now manages 70% of referrals to IAPT. In Australia, the NewAccess programme based on IAPT principles, is being promoted by national mental health charity beyondblue and adopted by community mental health providers using 'coaches' to deliver low intensity CBT. We're working with beyondblue to support the roll-out of NewAccess providing iaptus to NewAccess services across Australia.
To find out more about the support that we can provide to countries adapting the IAPT model, please contact us.