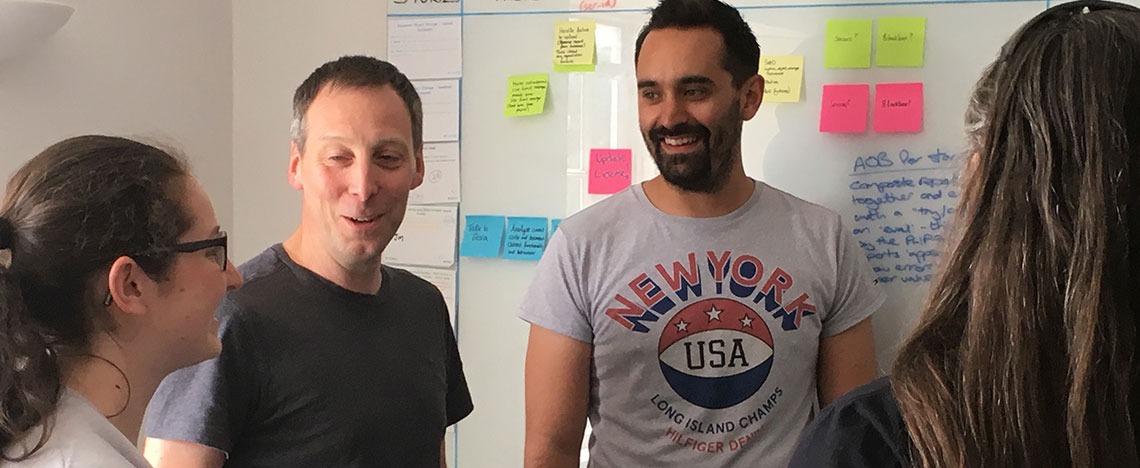 The Agile methodology, developed in the tech sector and embraced by software developers, breaks down large and complex projects into a series of short pieces of work and replaces top-down management with self-organising teams. These teams choose how to adapt to a shifting business landscape in order to get their product to customers. By replacing traditional project management, Agile encourages people to be more accountable to each other and invested in their team's success.
At Mayden, we use Scrum which is an Agile framework, breaking down work into two-week 'sprints'. This enables teams to deliver value regularly, gives them time to check in with each other on their progress and frequently celebrate their successes, reflect on their learning and re-examine their priorities. The theory goes that this makes teams less stressed and happier. We thought we'd find out how it works in practice by chatting to Rob Cullingford, one of our Scrum Masters.
How do the teams check in with each other on what they're doing?
Everyone knows what they're working on in a sprint, because they've all planned the work together. We start each day with a daily scrum meeting to check in with each other and talk about what we want to achieve that day, who is working on what and who needs help. We talk about any blockers and how we can work together to get around them. A good team will keep checking in throughout the day to work out how they're getting on. It's up to all of us to get the work done – working together is much less stressful than the pressure falling on one or two people.
"If something's completely reliant on you, it can be quite stressful. When you've got a team of people around you, that can really help to manage stress. It's not just up to an individual to deliver the work, it's up to us to deliver the work together. It changes the mindset from 'me' to 'we' and everyone expects to go to each other for help and advice"
What do the teams do to make sure they're not trying to do too much?
Agile teams are in charge of their own capacity, they get external pressures but they choose how much they can achieve in a sprint. A team needs to set a level of work which is both achievable and sustainable, whilst maintaining quality and still leave room for creativity and innovation. In traditional project management, projects are fixed in scope and try to deliver too much for the time and cost, whereas in Agile the scope of the project changes to reflect time, cost and team capacity. Delivering in regular increments means that, rather than worrying about the end goal, you're focussed on what you're achieving each two-week sprint. Delivering regularly also helps to minimise risk around the project and minimises stress for the team.
How does Agile empower people?
We talk about self-organising teams in Agile and at Mayden this means the teams are free to make their own decisions about how they do their work, it's not managed top down. Our scrum teams work with a product owner who sets the work we're doing each sprint and why from a commercial and company priority perspective. The team then determines how the work will be done, what solutions we will implement, how we organise ourselves, who is working on what, and the tools that we'll use. You're not waiting for a decision from a manager. Every member of the team supports each other – you tackle problems and find solutions together with your peers. If you see someone is struggling, the team should identify that and help to pick them up and support them. People feel they can raise concerns and questions in daily scrum meetings and in the retrospective at the end of each sprint. It's up to each of us to identify what's going well that we want to carry on doing and what we want to work on improving.
"Every member of the team supports each other – you tackle problems and find solutions together with your peers"
What about celebrating success?
Working in short sprints means that we deliver work regularly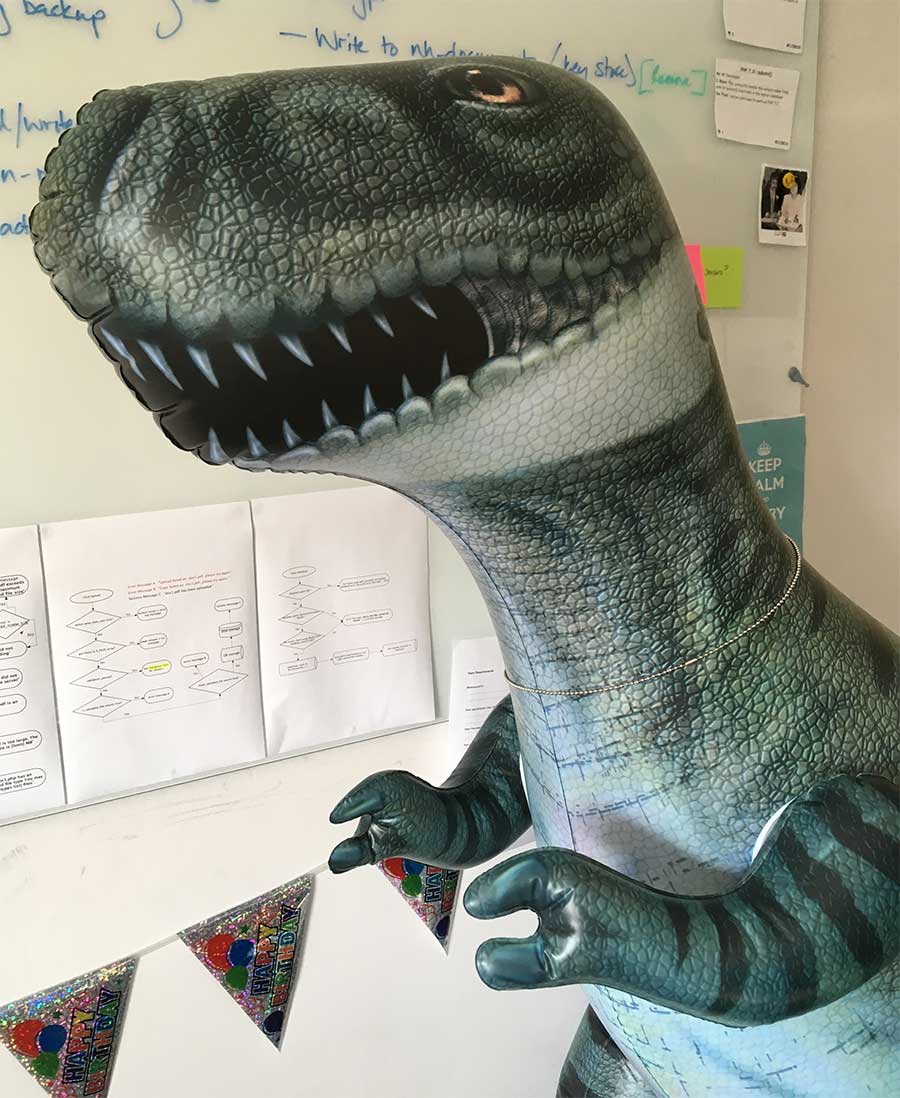 and we see the results of our work on a regular basis. Every two weeks, software updates are released into the live environment and used by customers which is really motivating. The team celebrates the things they've achieved at the end of each sprint and pat each other on the back. That shared success helps to build individuals' self esteem. We work hard to get the work done – but still have fun along the way. You'll often hear laughter around the office, we have regular themed music hours from pop to heavy rock, and we may enjoy an occasional beer in the garden after work. We really don't take ourselves too seriously – one of our team members is an inflatable dinosaur called Roxy!
"Get the work done – but still have fun"
To find out more about how adopting the Scrum approach at Mayden has helped our software development teams and the things we've learned along the way, read our blog.