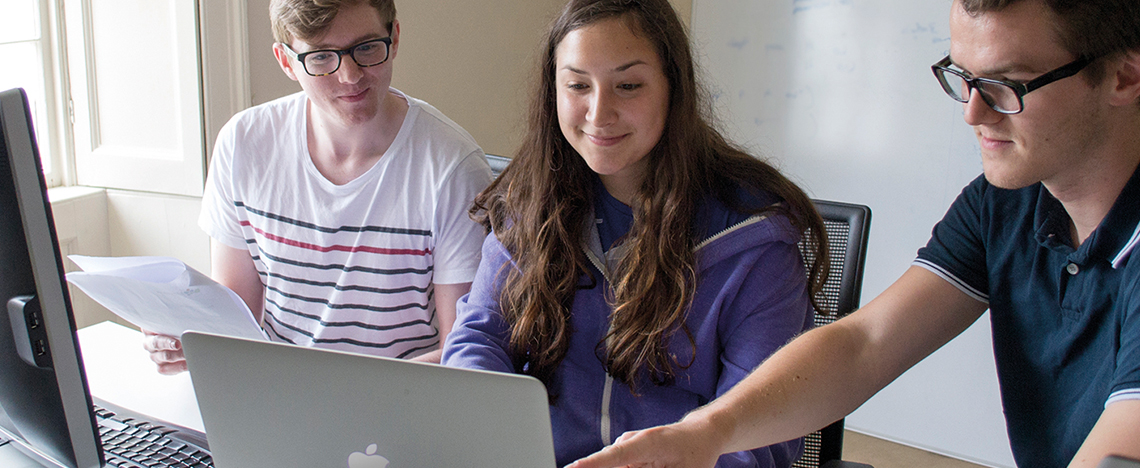 Unique Training Programme Launches in Response to Growing Demand for Developers in Bath and Bristol
Bath-based software house, Mayden, announced today the launch of iO Academy: a unique, employer-led intensive training opportunity for entry level software engineers, based at the firm's new offices in the centre of Bath.
Bath and Bristol were recently noted as being the biggest tech cluster outside London. As demand for software engineers grows across the country, the continued success of Bath's tech sector depends upon the retention and growth of developer talent.
The Academy takes an innovative approach, offering structured learning to trainees and allowing them to gain the hands-on experience of working with a team on commercial development projects. It aims to plug the gap between the theory that is learnt in formal education and the practical work experience that employers seek.
With a first intake in September 2015, the programme will engage individuals who have little to no prior coding knowledge. It will enable them to earn as they learn the fundamentals of coding, software design and project management using the latest technologies under the guidance of experts and mentors. The opportunity will appeal to ambitious, driven individuals looking to fast track their entry to a career in software development, either following their 'A' levels, after college or university, or as a career change.
After six months, Mayden hopes that trainees will be ready to take up permanent roles with the company as software engineers and to continue their learning and professional development.
Mayden invites prospective trainees and the local media to attend an open day on Thursday 9th July from 4:30-6:30 pm at their office at One Widcombe Crescent to learn more about the opportunity. Details are available at www.maydenacademy.co.uk.
iO Academy is generously supported by the Department of Business Innovation and Skills (BIS) via the Employer Ownership Fund (EOF), a national initiative to fund employer-led training in sectors where there are recognised skills shortages. Mayden was introduced to this funding scheme and guided to apply by the West of England Local Enterprise Partnership (LEP).
Skills Minister Nick Boles explains, "We listened when employers told us they needed more support to improve the skills of their workforce. The investment from the Employer Ownership of Skills Fund helps companies like Mayden train the next generation of engineers while our Trailblazers programme also puts employers in control of the training apprentices receive. Our reforms are ensuring talented working people have the skills needed to start a successful career and will give companies the boost to help grow their business."
"We're delighted to be able to offer such a valuable opportunity to individuals seeking a new career in software development," commented Mayden's founder and managing director Chris May, "and we're very grateful to have the support of BIS and the West of England LEP whose initiatives are helping to address the growing demand for software engineering talent in our region."
Photo Opportunity
Thursday 9th July at 4:30 pm, One Widcombe Crescent, Bath for the arrival of The Right Worshipful The Mayor of Bath Councillor Will Sandry, followed by an open day for prospective students and the media.
Please contact becca.astrop@mayden.co.uk and alison.sturgess@mayden.co.uk for further information and to confirm your attendance.
About Mayden
Mayden is a software house which specialises in innovative, flexible cloud-based software solutions for the healthcare industry and is driven by a mission to change the way services are delivered by staff and experienced by patients. The company moved its head office from Wiltshire to the centre of Bath early in 2015.
About the Employer Ownership Fund
EOF is part of the government's reform of the vocational education system and builds on the Employer Ownership Pilot. EOF is the main co-investment vehicle to deliver targeted support for vocational education outcomes in key sectors, which cannot be met through the mainstream skills system.
About The Department for Business, Innovation and Skills
BIS has overall responsibility for the fund, working with the Skills Funding Agency, who is responsible for all operations of the fund. The government's long-term plan is to build a stronger, more competitive economy and a fairer society.
About West of England Local Enterprise Partnership
West of England LEP supports business growth and is working to attract new jobs to Bristol, Bath and Weston-super-Mare – and the surrounding countryside. As part of their work, the LEP helps to connect small and medium-sized businesses in the region with potential streams of funding.