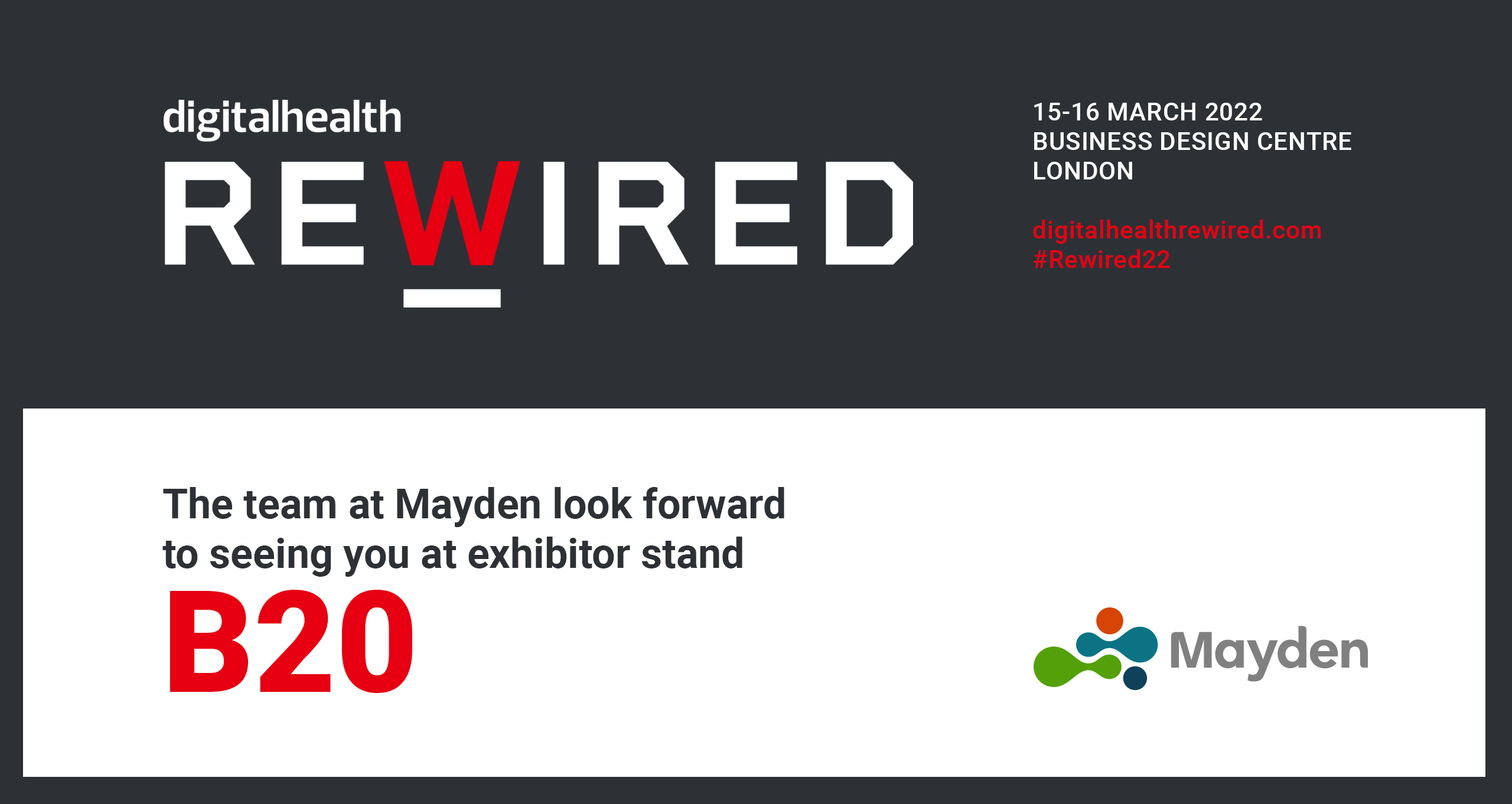 We're looking forward to exhibiting at Digital Health Rewired 2022. This will be the second time Mayden has exhibited at DHR (although the first time in person!) and we can't wait to see you all at our stand, B20, on the 15th and 16th of March.
So, who is Mayden and what do we do?
In case you haven't heard of us, we are a health tech company based in Bath, whose life's work is creating digital technology that changes what's possible for clinicians and patients. Our iaptus Electronic Patient Record (EPR) is used in over 100 NHS organisations across the UK.
Over the last 10 years we have focussed heavily on creating a flexible and customisable EPR, developing tools that help services run with efficiency and improve the patient experience.
We've also prioritised interoperability with other systems, integrating with digital health tools and apps, other EPR providers and primary care systems. We have also made some really exciting additions to our digital care pathway, based on machine learning algorithms, which have been developed to gain insight from clinical data and used to improve patient engagement, reduce DNAs and help services streamline care.
Join us at stand B20 to talk to the team behind the software.
Follow Mayden on Twitter for information about our exciting upcoming competition and for updates before, during and after the conference.
Meet the team attending Digital Health Rewired 2022
Fi Dawson – Director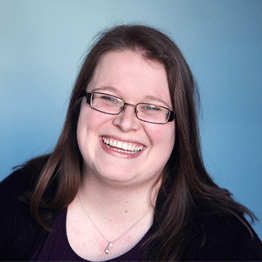 Follow Fi on Twitter if you want to chat before, during or after the conference.
This will be Fi's 4th time attending Digital Health Rewired as a delegate. She's a big fan! Fi is a Director here at Mayden, and a keen advocate for interoperability in healthcare. She is passionate about how digital workflows can help services to increase efficiency and empower clinicians, administrators and patients.
Fi is a Fellow of the British Computing Society and a Leading Practitioner of the Federation for Informatics Professionals. Other professional registrations include the Scrum Alliance and being an Associate of the Faculty of Clinical Informatics.
She also volunteers for One Healthtech, a volunteer-led global community that celebrates and promotes the extraordinary talents and remarkable work that women and people with diverse backgrounds are achieving in health tech. She is the treasurer for the BCS Digital Divide Specialist Group and is an Ambassador at Digital Poverty Alliance, a non-profit organisation that convenes, compels and inspires collaboration in the UK community to take sustainable action against digital poverty.
Among her many achievements and accreditations, her ambition is for iaptus to be integrated with every Local Health and Care Record (LHCR) in the country.
Which sessions are you most looking forward to attending at Digital Health Rewired 2022?
I'm most looking forward to attending the sessions within the Integrated Care and Smart Health categories.
I'll be attending "Open Platforms and Standards: Where next?", featuring sessions from Phil Bottomly, Digital Strategic Lead of The Christie NHS FT and Saroj Patel, Chief Digital Information Officer at the Royal National Orthopaedic Hospital NHS Trust.
With my background in Informatics, I'm also very interested in "Developing ICS Informatics And Analytics" featuring sessions about Integrated Care Systems, delivered by Ruth Holland, Deputy CIO of Imperial College Healthcare NHS Trust & London Brand Lead and Rony Arafin, Head of Analytics at NHS England & COO, AphA.
Chris E – Director of Operations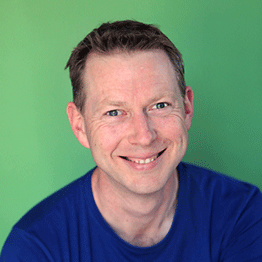 Follow Chris on Twitter if you'd like to chat or meet up for a coffee at the conference.
Chris works closely with clients to understand how the application of iaptus can evolve to support the service's work. He brings the principles from his background in engineering and lean manufacturing to the development of iaptus, constantly seeking ways for services to become more efficient.
Which sessions are you most looking forward to attending?
The sessions that interest me most are within AI and Data and Smart Health categories.
I'm particularly looking forward to hearing discussions on "Scaling Up AI in the NHS", delivered by Dr Haris Shuaib, Head of Clinical Scientific Computing at Guy's and St Thomas' Hospital NHS FT. Plus, the panel session between Giuseppe Sollazzo, Head of AI Skunkworks & Deployment at NHS Transformation Directorate, Professor Andrea Rockall the Clinical Chair of Radiology at Imperial College London, Professor Sebastien Ourselin the Deputy Director at London AI Centre and Dr Mark Gooding the Chief Scientific Officer at Mirada Medical Ltd.
I am also very interested in developments in Cyber Security, so I'll also be attending "Cyber Security Keynotes" to hear sessions delivered by key speakers in the industry including, Phil
Huggins, Interim National CISO for Health and Social Care, NHSX.
Becky Prestland – Business Development and Marketing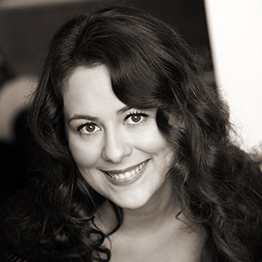 Follow Becky on Twitter to chat about all things health tech.
Becky has worked in health tech for almost 15 years. After working as Marketing Manager at the leading provider of shared care records in the UK, she joined Mayden in 2011 to take responsibility for Mayden's Marketing and PR activities. Becky now works across marketing, business development and strategy for Mayden. She is motivated by seeing examples of technology changing the way care is delivered for the better, and is passionate about the role IT can play in creating sustainable healthcare systems across the world.
Which sessions are you most looking forward to attending?
I love Digital Health Rewired. It is my favourite health tech conference of the year and the programme never disappoints. It's hard to pick a favourite, but if I have to choose, I'd probably say the Smart Health and Digital Transformation categories.
As a health tech marketeer, UX is something that I pay a lot of attention to as it crosses both my love of marketing and my love of tech, so the session on "UX and Design-Led Thinking in Health" appeals to me. UX is also something that I think Mayden does really well, but there is always room to improve so I'm looking forward to hearing from other people about their work in this area.
I'm also looking forward to hearing discussions on "Digital Transformation in Mental Health". The session will include talks by Dr Lia Ali, Clinical Advisor at NHS Transformation Directorate, delivering a Mental Health Playbook update. As well as Arden Tomison, Founder & CEO of Thalamos, who'll be delivering a talk on Digitising the Mental Health Act. And, also, Dan Burningham, Mental Health Programme Director at NHS City & Hackney Clinical Commissioning Group who's session will cover digital recovery platforms for severe mental illness. Mayden currently supports the care of 65% of all NHS referrals to talking therapies, so I'm keen to hear how digital is supporting other mental health services across the NHS.
Chris May – Founder & Managing Director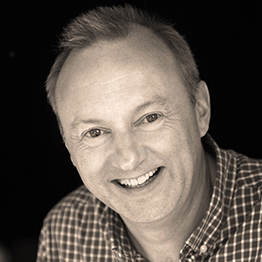 Follow Chris on LinkedIn to start a conversation or to catch up over a coffee at the event.
Chris is the founder and managing director of Mayden. He has 21 years of experience in the healthcare industry, where he worked as a hospital manager and later as a management consultant specialising in information analysis and modelling. His passion is using data to improve health outcomes for patients and helping others to thrive.
Which sessions are you most looking forward to attending at the conference this year?
I'm pleased to be able to attend the conference in person this year. With such a varied and interesting programme, it's hard to say which sessions I'm most looking forward to.
However, considering our work developing a patient centred EPR system, I would have to say I'm most interested in the session "How can we Empower Patients to take Ownership of their Care?", as this is something we strive to achieve at Mayden with our iaptus software.
The session will be chaired by Catherine Dale the Programme Director, whose background is in Patient Safety, Health Innovation Network. Followed by a panel discussion where we will hear from 4 speakers including Tommy Parker, CEO at KiActiv and Marie Loizides, Associate Director of Performance Analytics, Barking, Havering and Redbridge University Hospitals NHS Trust.
We hope you feel like you know us a little better now. We look forward to seeing you in person in London on 15th and 16th of March 2022. Please drop by stand B20 to say hello.
Follow Mayden on Twitter for information about our exciting upcoming competition and for updates before, during and after the conference.