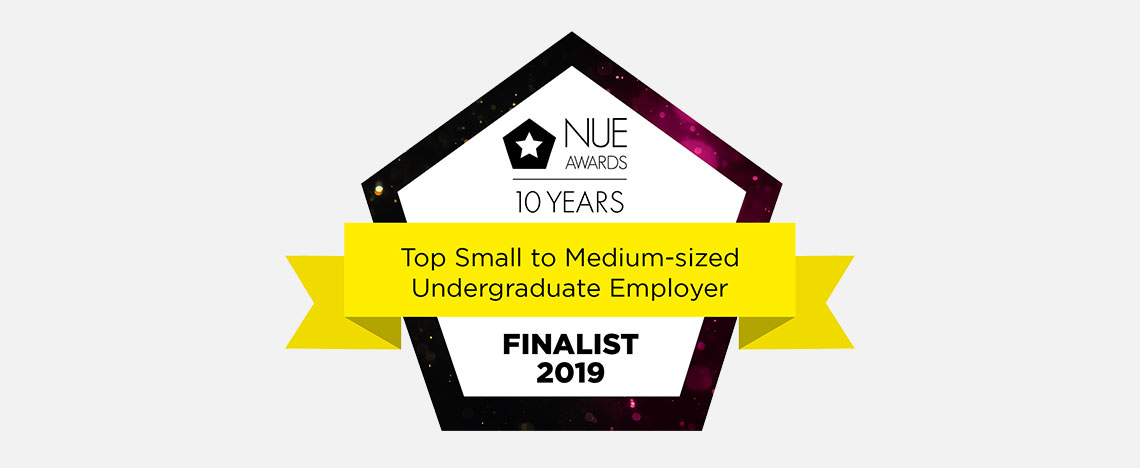 We are delighted to be named finalists for the 'Top Small to Medium-sized Undergraduate Employer award'. Huge thanks to the University of Bath for the nomination!
At Mayden, we really value rising talent. We believe our ability to attract and retain the most promising graduates to our software teams is a major contributor to the quality of our work and success of our business.
Finalists in the 'Top Small to Medium-sized Undergraduate Employer' Award
One of the ways that we ensure our bunch of super talented employees is added to regularly is our student placement scheme. Every year we host computer science undergrads, the majority from the University of Bath, to get valuable work experience. Testament to the quality of placement experience we give, many return to us 12 months later for their first graduate job after completing their final year of studies.
During their time with us, we focus on helping our students develop their full potential. The placement is designed around the student's career interests and aptitude, and we offer plenty of training and support so they can get stuck in right away on real projects. It's an approach that works well for us and them, and has produced some great new members of our team.
Here's what Liam, a former placement student and now Mayden software developer and Scrummaster, had to say:
'My placement year at Mayden helped me to become a true software developer. I worked on my development skills as a full member of a scrum team in an enjoyable, rewarding and creative environment. I was able to contribute to software that supports the important work of mental health services. The culture, people and work at Mayden made it an easy decision to return after completing my final year.'
Thank you for the nomination, and let's hope that we win!